The Right Exit Strategy for a Business Owner Can Make the Difference For Employees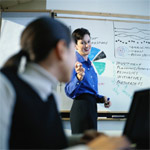 Expert ESOP advisors can help you plan succession, and answer questions such as:
How can I retire while leaving my company in good hands?
How do I safeguard my employees from layoffs?
How do I reward my company's workers for their performance, and incentivize them further?
How do I improve productivity and give my workers a sense of ownership?
What are some of the tax benefits of implementing an ESOP?
How can an ESOP help me retire and empower my employees at the same time?
What's the best way to help my employees through a potentially disruptive ownership transition?
An ESOP can be a great exit opportunity for business owners. Consult our experts to learn more.
An ESOP is...

...a flexible and eclectic tool that can help the owner plan succession and improve your company's performance while empowering workers. If you'd like to know if an ESOP is the right choice for your company, commission a valuation study and find out!

Learn more »

Implement & Grow ESOPs

Succession, transition and owner exit strategy are a key watershed for every one of a company's employees. Do right by them - consult an ESOP succession planning expert to see if employee ownership is the right path forward.

Learn more »
If you are the founder of a business and have watched your child grow throughout the decades, it can be difficult to let go. However, there comes a point when the first generation needs to make way for succession, and here is where ESOPs come in. While not the right choice for every company - ESOPs are ideally suited for businesses that have strong cash flow, competent second-tier management, little debt and a large payroll base - this tool can be an excellent way to hand off the reins in a way that will leave employees feeling that they've been treated fairly and with consideration.
The basic idea of an ESOP is to set up a trust, managed by a fiduciary trustee responsible to uphold employee and shareholder interest, that would buy 30% or more of the company through borrowed funds. The loan will be paid off by employee payroll contributions, eventually leaving them fully vested owners of their company. The advantage of ESOP is that the contributions can be made with before-tax income, and shareholder proceeds are tax-free as well, as long as they're invested in American assets.
Setting up an ESOP can be difficult, but if it's done by the book and with proper communication between owner, management, employees and the transition team, it's an owner exit strategy that will prosper and flourish for generations to come.
If you're a retiring owner, make sure you're not missing out on a great succession tool! Consult an experienced ESOP transition advisor on Exit Planning marketplace on the benefits of an ESOP for your company, and see if an ESOP is right for you.